The Proposal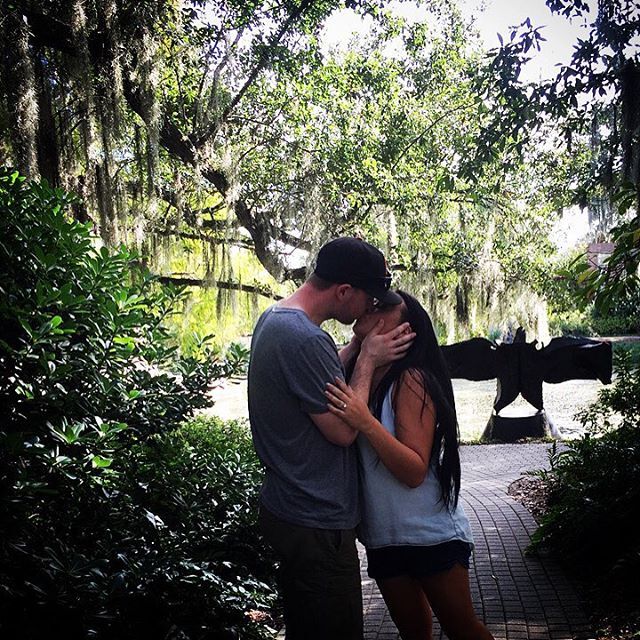 The short version? We got engaged in New Orleans and I said yes, obviously!
The long version? Here you go…
Although I knew Jim was the one since I was a teenager, I had no idea of what to expect as far as when, where, and how he'd pop the question. Well… let me just say, it was exciting and unforgettable.
Jim booked us a trip to New Orleans. We had a list of places to see and things to do but I couldn't wait to see City Park. Who doesn't love a park that's over a thousand acres of historic oak trees covered in Spanish moss? By the way, it's absolutely beautiful there.
We were walking through the sculpture garden and not for a second did I think that this was about to be a moment that I would want to relive over and over again for the rest of my life. In fact, when I turned around to see Jim on one knee asking me to marry him I was overcome with so many feelings that at first, I completely lost all of my words! I really just wanted to jump into his arms and live in that moment forever. Of course, I said yes and it was one of the greatest feelings. We both knew that we were meant to spend the rest of our lives together, so it was an easy question to answer! What makes it even more complete…a couple happened to be walking the same path and saw it all happen, so we got a pretty awesome proposal pic too!
We walked over to the Morning Café for lunch and then took a bottle of wine out into the park and enjoyed the rest of our afternoon there. That night, we popped some more bottles in celebration, ate a fancy dinner at one of the most haunted restaurants in NOLA and then drank hand grenades on Bourbon Street.
The trip was just amazing and Jim really pulled out all the stops. I was completely spoiled the whole time. We ate great food, never had one bad cup of coffee, got up close to gators in the bayou, and stumbled down Bourbon Street…just a few times ;) But the proposal was simple, perfect, it was very "us".
And then there's the ring… designed by my one and only. It's beautiful, sparkly and it takes my breath away every time I look at it. He couldn't have done me any prouder!
We had a few more days left in NOLA to enjoy it as an engaged couple. The excitement never ended, even when it was time to go home because we couldn't wait to celebrate with our family and friends. The amount of love and support from everyone has been incredible, and we are so grateful!
Thinking back on this day, I get that special rush of emotions and I fall in love with my soon to be husband more and more each time!